BioSafety Cabinet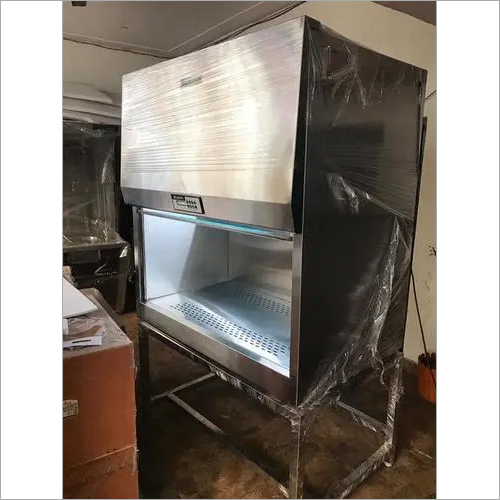 BioSafety Cabinet
Product Specifications
1 year

Laboratory Furniture
Product Description
Specification:-
Standard Working Chamber Size: - 3x2x2
Pre-Filter:-
Fabricated out of washable synthetic non-woven media. The material is moist-fungus-bacteria and frost resistant and is mounted on study frame. The filter is DOP tested as per standard BS: 283i and are 90% efficient down to 5 micron with IPD 5mm WG at rated flow up to 1000cfm+- 20%.
Absolute)
Filters:-

Standard sizes used are made of micro glass fiber with corrugated aluminum foil separators and mounted in anodized aluminum frame sealed with epoxy and is provided rubber gaskets. HEPA filter 99.975 efficiencies down to 0.2 to 0.3 micron are tested by expanded metal sheet mesh or suitably equivalent material. Filters are DOP tested and with IPD less than 18mm WG and FPD less than 40 mm WG at rated flow up to 1000cfm+-20% and also tested as per the standard US fed standard-209B
UV Lamp: Built-in U.V. Germicidal Light - Facilitates sterilization of the working area before and after use.
Front Window: Two-layer laminated toughened glass>5mm
Blower Unit:
Assemble consists of a suitable motor as per IS996-1979 working on 220V AC 50 Hz single phase. Dynamically and Statically balanced blowers make the unit least vibrant with minimum noise (dB) level.
Fabricated Material: - Stainless Steel or Mild Steel
Control: - Microprocessor based control
Lighting: - Suitable fluorescent tube sets (20 or 40 watts)
Sterilization: - Germicidal Ultra Violet {15 or 30 watts)
Manometer: - Accurately calibrated to assess Static pressure in HEPA chamber, made of plexiglass block.
GAS-LINE: - Fittings Made of brass, duly chrome plated
Exhaust System: - Protects the ambient environment, and avoids build up. Airborne particles with the help of special filter with 100% Air exhaust offering the highest level of cleanliness